Our diapering plan with the new baby is to opt for the most environmentally friendly choice — fabric diapers. We've stocked up on about two dozen lovely fabric diapers featuring a vibrant collection of prints and colors. The only problem is that they're a bit too big to fit an average newborn. So for the first couple months, we're stuck using disposable diapers. And although they may be much easier to use, I can't shake the guilt that accompanies the pile of unnecessary garbage we're adding to the landfill daily.
Wanting to ease our environmental impact as much as possible during these couple months, we decided to use a more natural disposable diaper and after doing a bit of research, we landed on two brands: Seventh Generation and Honest Company.
There's a pretty big drawback to selecting the environmentally friendly route when it comes to diapering: price. Ultimately, both Seventh Generation and Honest Company are considerably more costly than other brands.
If you, like me, also shop at Target, you'll notice that Target's generic brand (Up and Up) diapers are less than half the cost of both Honest Company and Seventh Generation. At about $0.14 per diaper, Up and Up is a more frugal choice compared to Honest Company's $0.34 and Seventh Generation's $0.33.
But if you're willing to spend more to offset a bit of the environmental impact and select one of the natural choices, you're probably going to find yourself deciding between those two popular brands.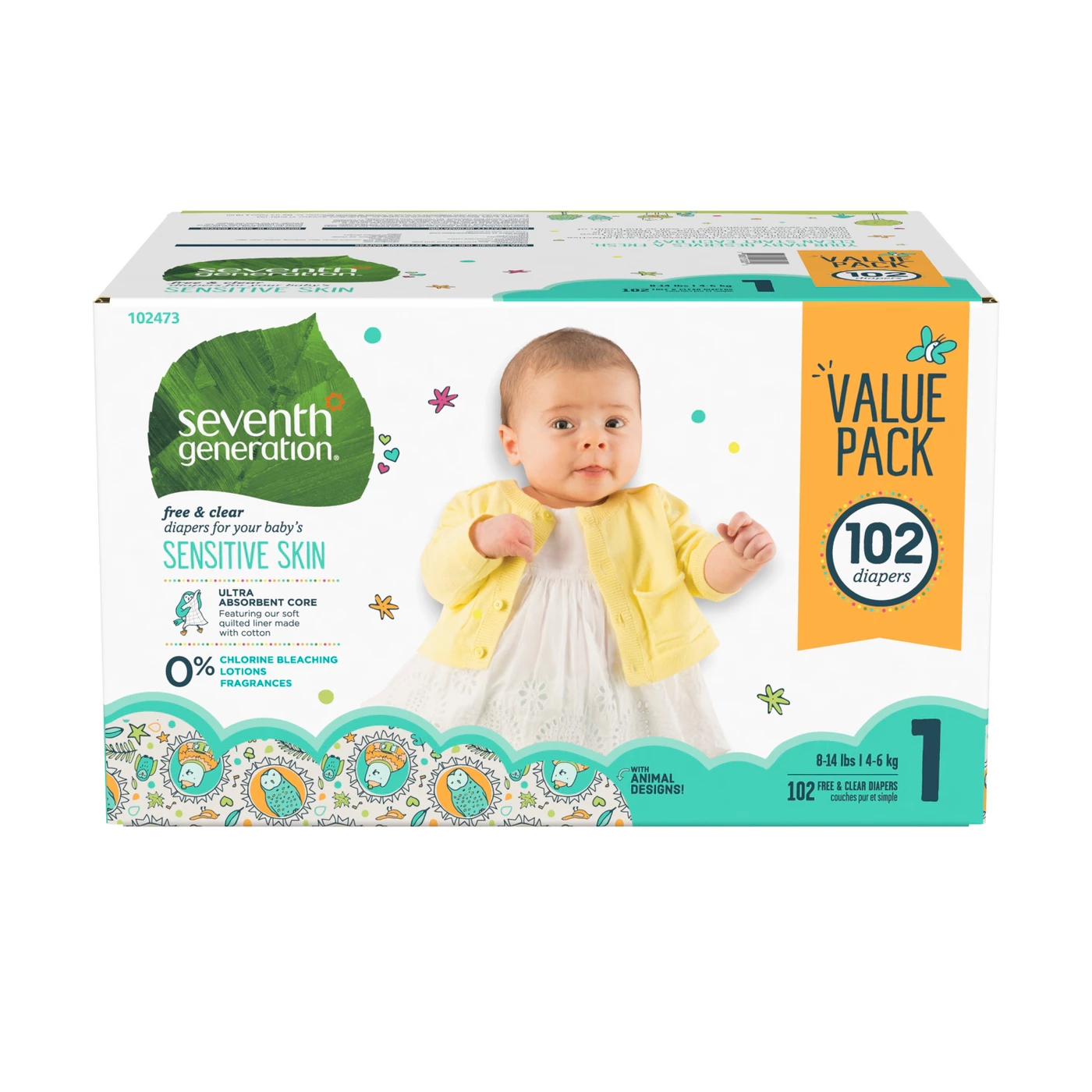 Before Lyra was born, we bought a pack of newborn diapers in each brand. First we went through the Seventh Generation pack. And since Lyra was just a tiny thing, creating equally tiny diaper deposits, we definitely didn't have any problems with leaking or overflow. The diapers did their job of collecting and retaining between diaper changes, but we weren't wowed by the fit or the feel.
The Seventh Generation diapers were a little shorter than the Honest Company ones, offering less lower back coverage and creating a questionable seal around Lyra's little thighs. The interior collected her waste, but did a poor job of wicking the moisture from her skin resulting in a little diaper rash on her buttock.
In comparison, the Honest Company diapers did a much better job of absorbing and distributing wetness between diaper changes. The longer length offered more coverage on her backside (beneficial for limiting waste escape if she has a really large BM) and the cinching around her waist and thighs is firm, but comfortable. Maybe best of all, her diaper rash disappeared quickly after we switched to Honest Company.
Perhaps Seventh Generation's diapers work better on older babies and toddlers, but for our newborn requirements, Honest Company is clearly the winner. And we're not alone in our opinion. Check out these reviews on Babe and Bubbly and House of Carpenters.